So it's official!
The dust has settled from the initial government announcements regarding the 're-opening' of the United Kingdom (UK). I'll try to provide some clarity on when we'll be permitted to, once again, enter our sacred iron retreats!
n.b – On a VERY unrelated side note – anytime the word 'sacred' is used, the first image that charges throughout my brain matter is that of the iconic rock god himself, DIO! Check his track out here:
Man, some PR's have been smashed out to that!
Right. Going off topic is soon becoming a habit, of which I will do my best to cease immediately!
UK GYMS RE-OPENING APRIL 12th
For the sake of reference the full parliamentary briefing on the roadmap out of lockdown can be found below:
Let's start by saying as of the timing of this post all four nations of the UK are still under lockdown restrictions. Only essential travel is permitted.
Only one exercise session is permitted outdoors per day, which must be close to your home. Exercising with household members or a support bubble is allowed; or alternatively one person from a different household can join a person, as long as social distancing is maintained at all times.
Current regulations for the fitness industry can be found in full at UK Active:
—
The Government aims to lift current lockdown measures in four stages. We've summarised what the stages look like for the fitness industry in England below. A full breakdown of all measures in England, Scotland, Wales and Northern Ireland can be found on the official gov.uk page.
08th March –
All schools open with outdoor after school sports and activities being allowed.
Non-essential shops, leisure and entertainment venues remain closed (yes – that means gyms remain shut 🙁 )
Pubs and restaurants remain closed but take away food is permitted, i.e. those Domino Pizza Dirty Bulks can still crack on!
29th March –
Outdoor sport facilities will reopen, including golf courses and tennis and basketball courts.
Formally organised outdoor sports can also restart.
Parents and children groups can return but are capped at 15 and must be outdoors. Indoor groups can take place for vulnerable children and where parents need the groups to go to work.
12th April (no earlier than) –
Gyms and spas can reopen for individuals and households – here's what we've all been waiting for people! (for those who enjoy indoor group exercise check out the 17th May below).
All shops allowed to open.
Restaurants and pub gardens will be allowed to serve customers sitting outdoors, including alcohol (if you want to ruin those lockdown gains!)
Hairdressers, beauty salons and other "close contact services" can reopen.
17th May (no earlier than) –
Adult indoor group sports and exercise classes can start up again – so those amongst us who train their legs, bums and lungs with exercise to music workouts can celebrate here!
People can meet in groups of up to 30 outdoors.
Indoor entertainment such as museums, theatres, cinemas and children's play areas can open.
Performances and large events will be subject to limits though. For indoor events they can be at half capacity or 1,000 people, and outdoors they can be at half capacity or 4,000 people – whichever is lower.
For large venues (at least 40,000 capacity) up to 10,000 will be allowed to attend – personally, I'm gunning for a full on Oasis re-union to celebrate!
21st June (no earlier than) –
All legal limits on social contact will be removed!
—
So who knows? If we all throw the sign of the horns to the Late, Great, Titanic Ronnie James Dio he may lift us out of the depths of lockdown misery early; charging our souls with bolts of lightning straight from the grip of Zeus himself on top of Mount Olympus! ?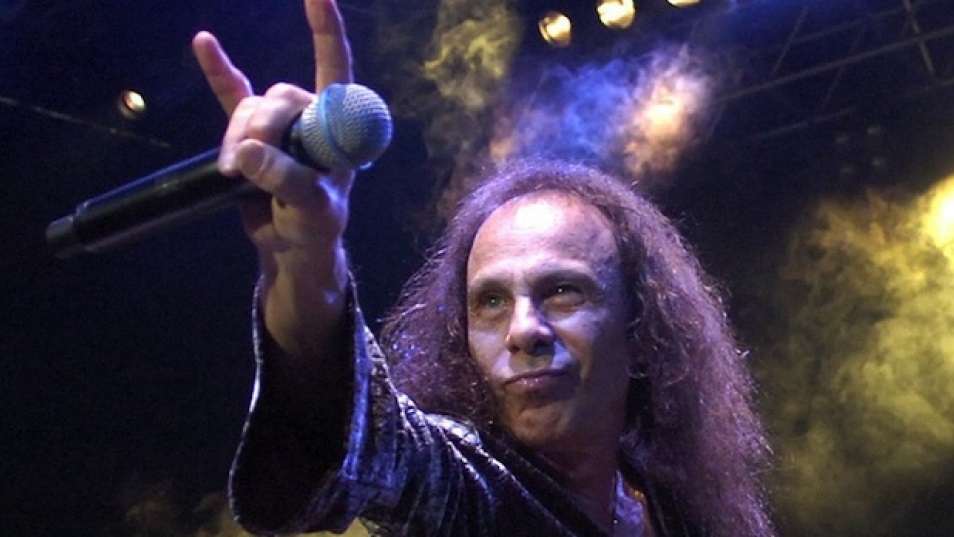 Ronnie James Dio
(photo credit: Associated Press)
But then again, maybe we'll just leave this one in the hands of the Government 🙂
All the best, signing out.
Tim